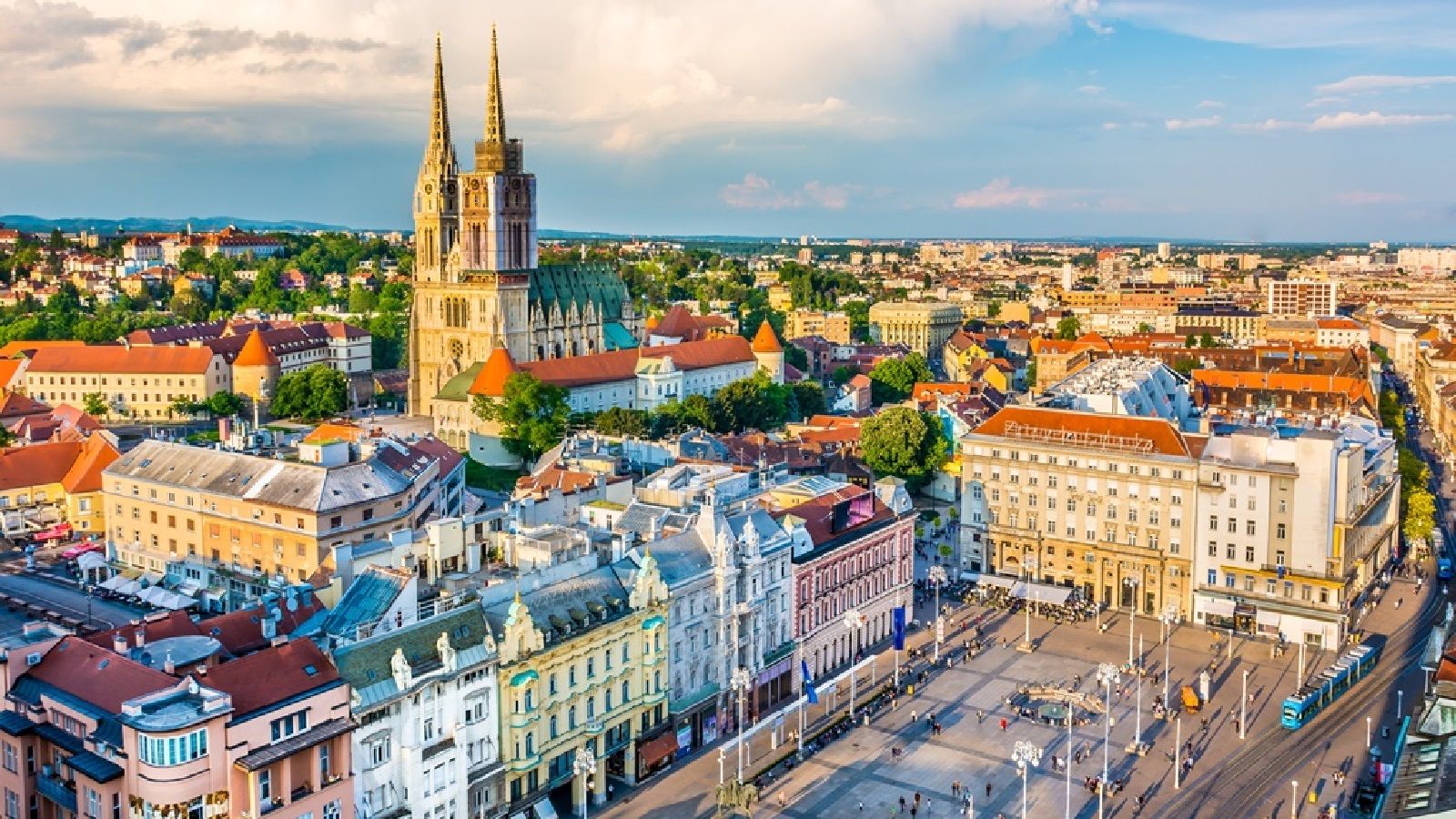 Balaji Srinivasan recently went on the Tim Ferriss show, where he talked about the concept of startup cities. His idea in a nutshell? That traditional tech hubs like Silicon Valley are dinosaurs, and that the future belongs to startup cities like Miami, which recently pulled off a near-spontaneous "Tech Week" – jokingly referred to as "South by Southeast."
But on the other side of the Atlantic, there's another week worth watching that's rapidly approaching - Zagreb's "Digital Nomad Week."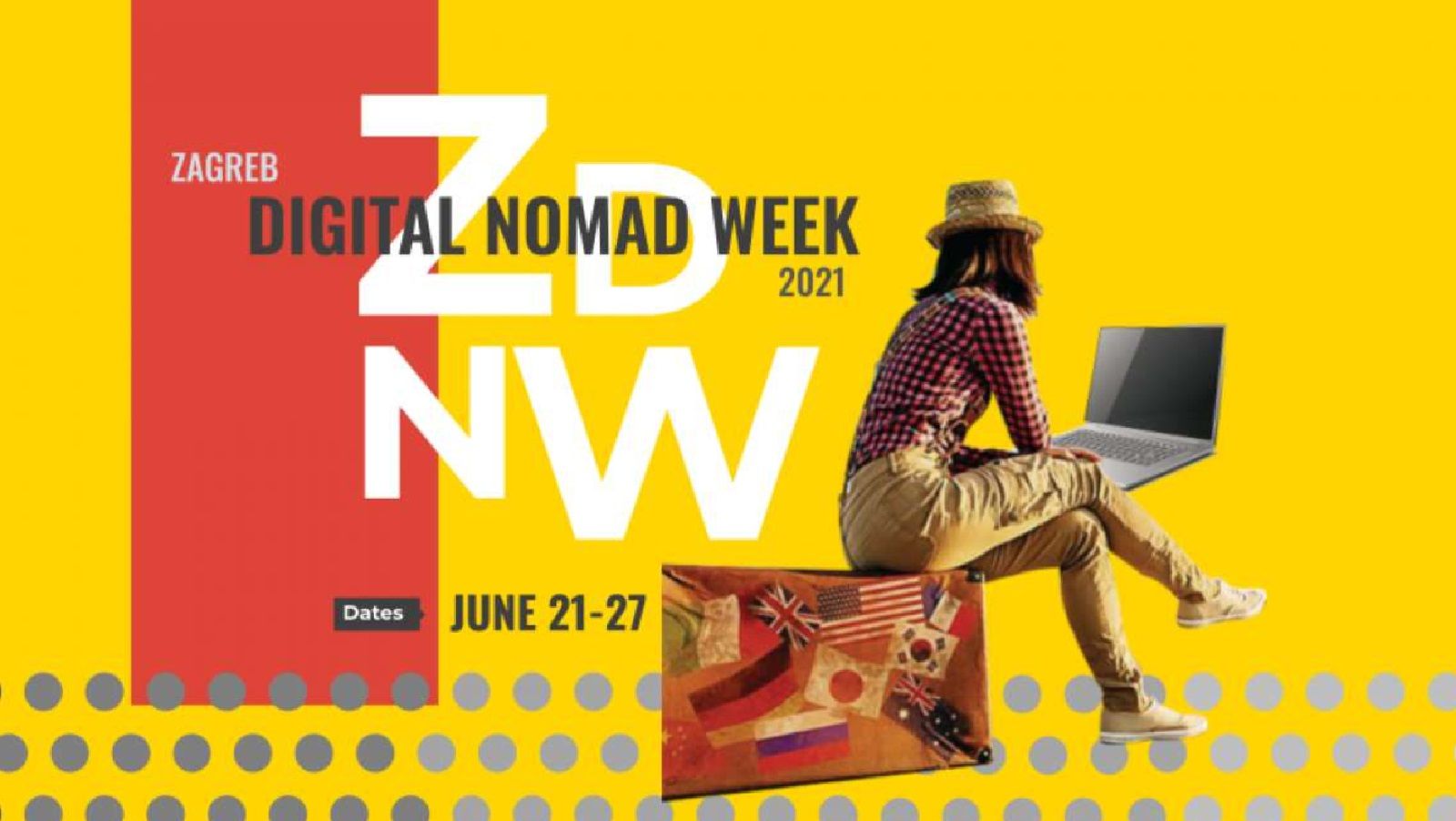 National digital newspaper Total Croatia News has a dedicated tab on its site for digital nomads, and this is a key indicator that both the country and its capital are, like Miami, leaning forward to make themselves a destination of choice for startups, developed tech companies, and sovereign individuals who are looking to leave Silicon Valley.
I started with the reference to Miami,  because Srinivasan has used that as an example of a startup city, a term for which he provides three definitions:
A city where startups happen, what San Francisco used to be prior to the current exodus.
A city that acts like a startup, like Miami or Dubai.
A city that is a startup itself, like Prospera, Culdesac, or Starbase, TX.
Zagreb definitely meets the first criteria, and has potential to achieve the second – so let's look at these definitions in detail as they apply to the Croatian capital.
Zagreb, Specifically
TechCrunch recently interviewed nine tech investors, founders, and executives on Zagreb as a base for startups, and they highlighted a lot of positives, including:
Zero capital gains tax on shares held for 2+ years
Digital nomad visa (technically, a residency permit)
Location near beaches (not to mention mountains, forests and lakes)
Two active VC firms - Fil Rouge Capital (Pre-Seed, Seed, Series A, B2C and B2B) and South Central Ventures (Seed, Series A, B2B).
The recurrent theme was that Zagreb is at the ground floor of its startup boom, so there's a lot of room to grow, and plenty of local IT talent to support that growth. In the words of Matej Zelic, COO of Spotsie, "because of micro-location, the digital nomad program, and IT talent pool, Zagreb is on the way to becoming the No. 1 tech location in CEE and Europe."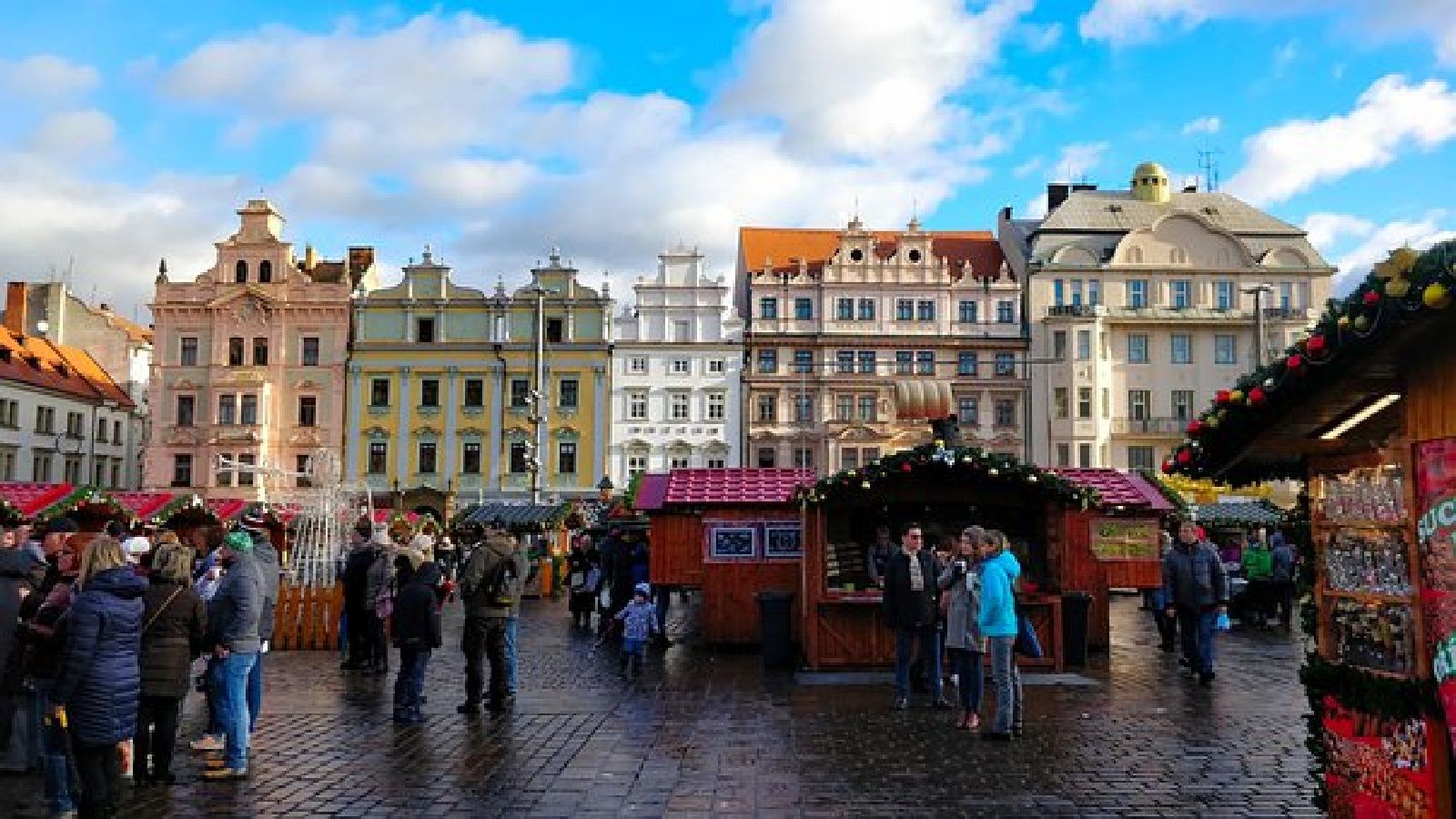 Zagreb has long been compared with Vienna due to its beautiful architecture, and Julien Coustaury, a partner in local VC firm Fil Rouge Capital thinks that within five years, there'll be another link, as he sees Zagreb as being "on par with Vienna" as a tech hub in Europe. Lucija Ilicic, CEO of PlatePay agrees, noting that Zagreb is "a perfect place for digital nomads, home of a few new unicorns and a European center for AI solutions development."
And that's why I'm here, in fact – both physically here in Zagreb, and here writing about its potential as a startup city. My partner had to travel to Geneva to do some filming, and I needed to place to focus on my online Harvard finals in Europe. Croatia is one of the few European countries where a vaccinated American can easily gain entrance, and the geo-arbitrage potential was attractive – my condo in the US rents for $99 dollars a night on Airbnb while my Airbnb in the heart of Zagreb is just $25 a night – so with the low cost of food and excellent walkability and public transport, it was an easy choice to base here temporarily, and their digital nomad program has got us considering a longer stay.
A visual may help frame the attraction – Zagreb currently ranks 44 on NomadList.com (compare that to Miami which comes in at 204!)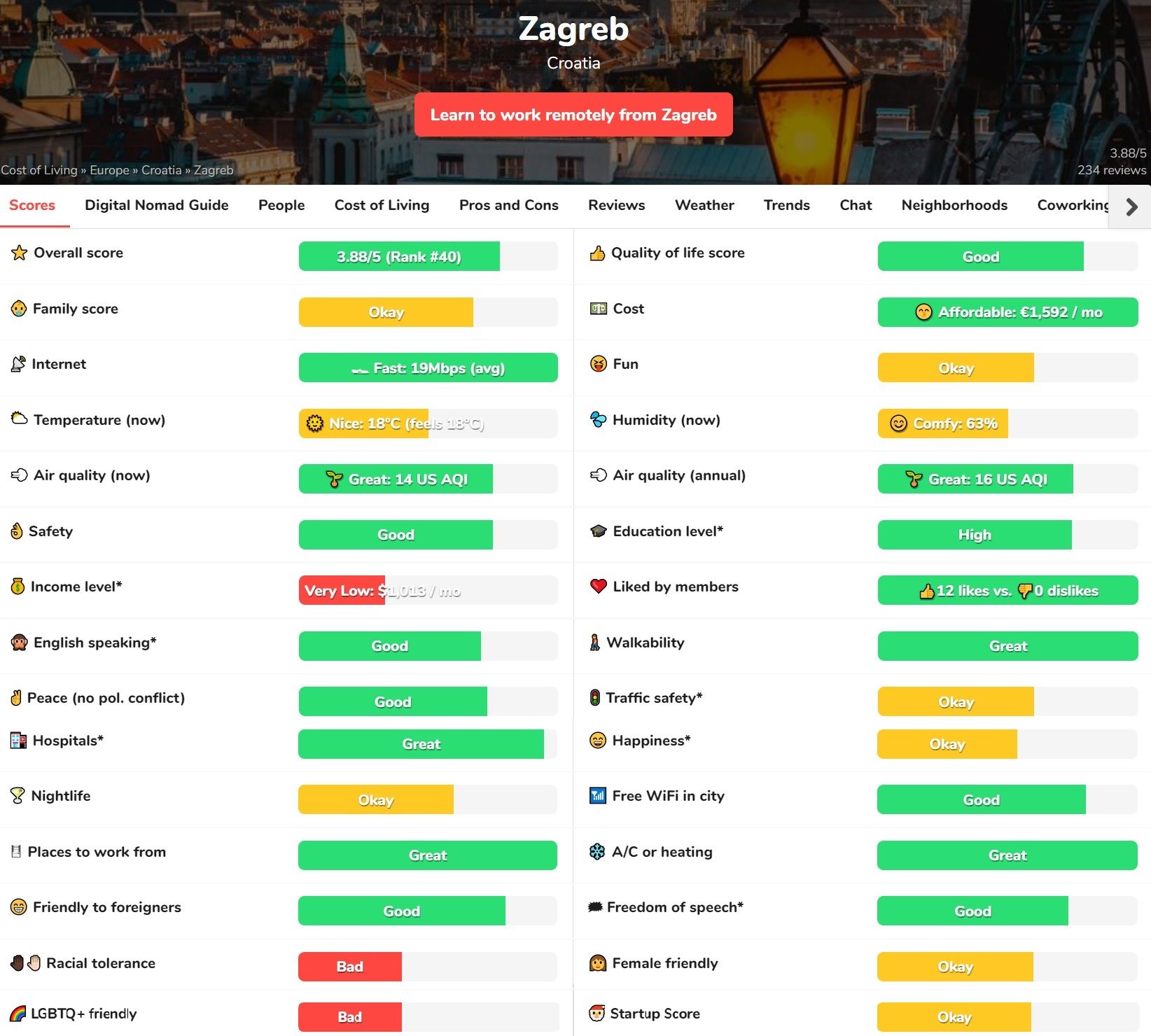 Early Adopters
A partial list of notable Zagreb startups includes these key players —
— and I think we can expect to see many more in the near future.
CEO of the City
Miami's Mayor Francis Suarez, says Srinivasan "is now one of the most important mayors in the US, because he's presiding over one of the fastest prestige growths in the country by getting people to vote with their wallets and their feet, not just their ballots."
And that's an example that Tomislav Tomašević (pronounced "To-mas-sheh-vich") should definitely follow.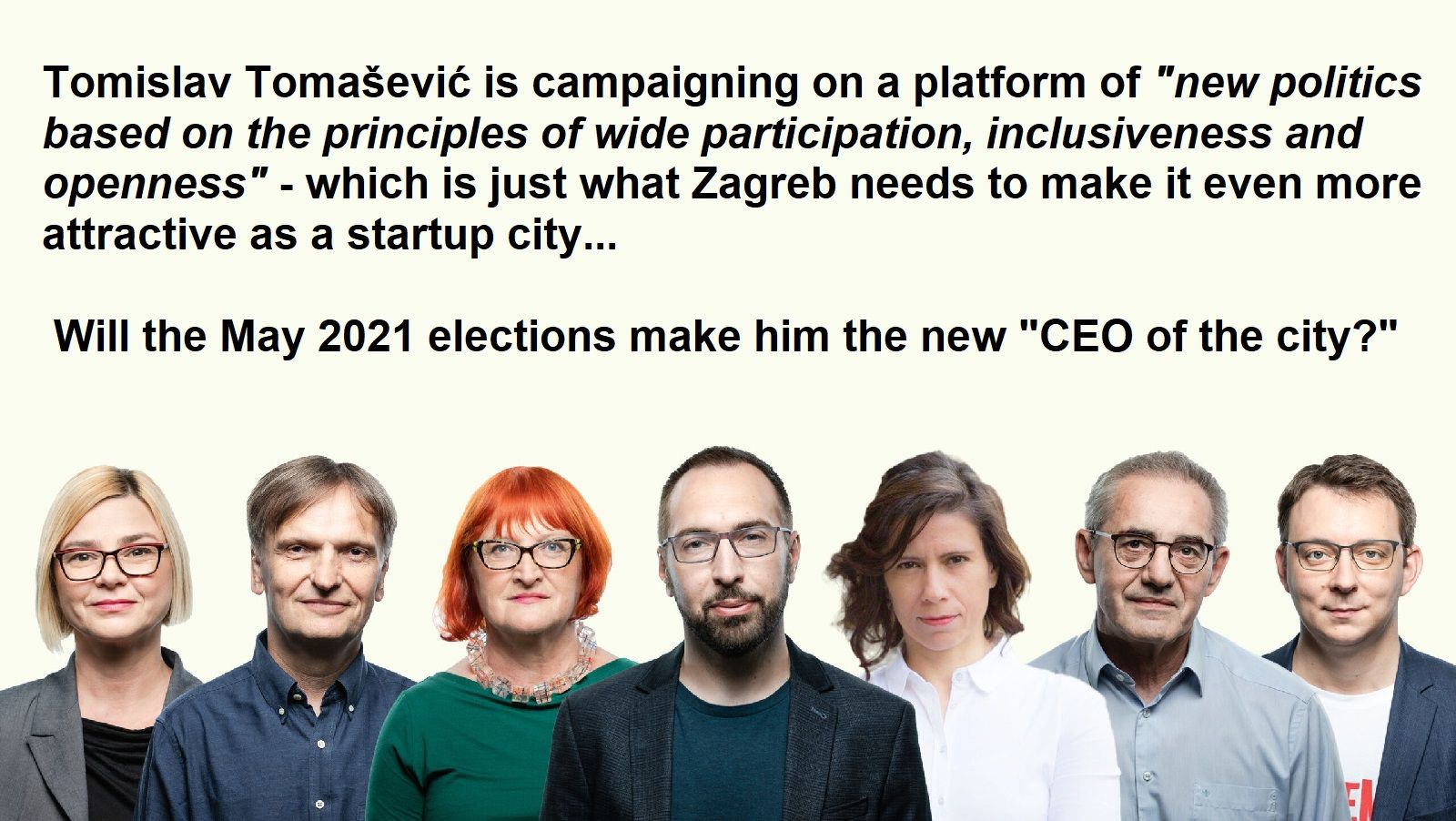 Tomašević is the leading candidate in the 2021 Zagreb mayoral elections, which will take place on May 16. Like Suarez, Tomašević is active on Twitter and his postgraduate degree in environment, society and development from Cambridge along with his history of activism and local political service suggests that if elected, he will indeed bring positive change to Zagreb.
In short, I think that we can expect to see Tomašević embody the role played by Suarez in Miami – what Srinivasan calls the CEO of the city. An early sign would be if, shortly after election, he puts out something like Suarez's how-can-I-help signal, which was amplified widely online and has resulted in a surge of interest and the movement of people and capital to his city.
Another "easy win" for Tomašević would be to put the Bitcoin whitepaper on the Zagreb city website, which will signal to technologists that Zagreb is a crypto-friendly place to do business. Some businesses in Croatia already accept Bitcoin as payment, and every indication is that brick-and-mortar acceptance of cryptocurrency will increase in the country, since, as tour operator Ivan Vuković points out, "it has became so easy in the last couple of months as PayPal, Visa and other big players have contracted with crypto platforms. In Croatia now you can add crypto payment on your POS machine," and entrepreneur Sasha Lusic, owner of D'vino Wine Bar adds  "it is a simple and easy system to use, straight through the POS, no hassle, no wait, at the fraction of the normal banking fees."
Location, Location, Location
Regardless of the outcome of the mayoral election, Zagreb has a lot going for it in terms of its location. Zagreb's airport is easy to navigate, and it's only a short drive over great roads with little traffic to get to the city center.
Need a break for yourself or your employees? The Dalmatian Coast is just a 40-minute flight, a 4-hour drive, or a 5-hour train ride away –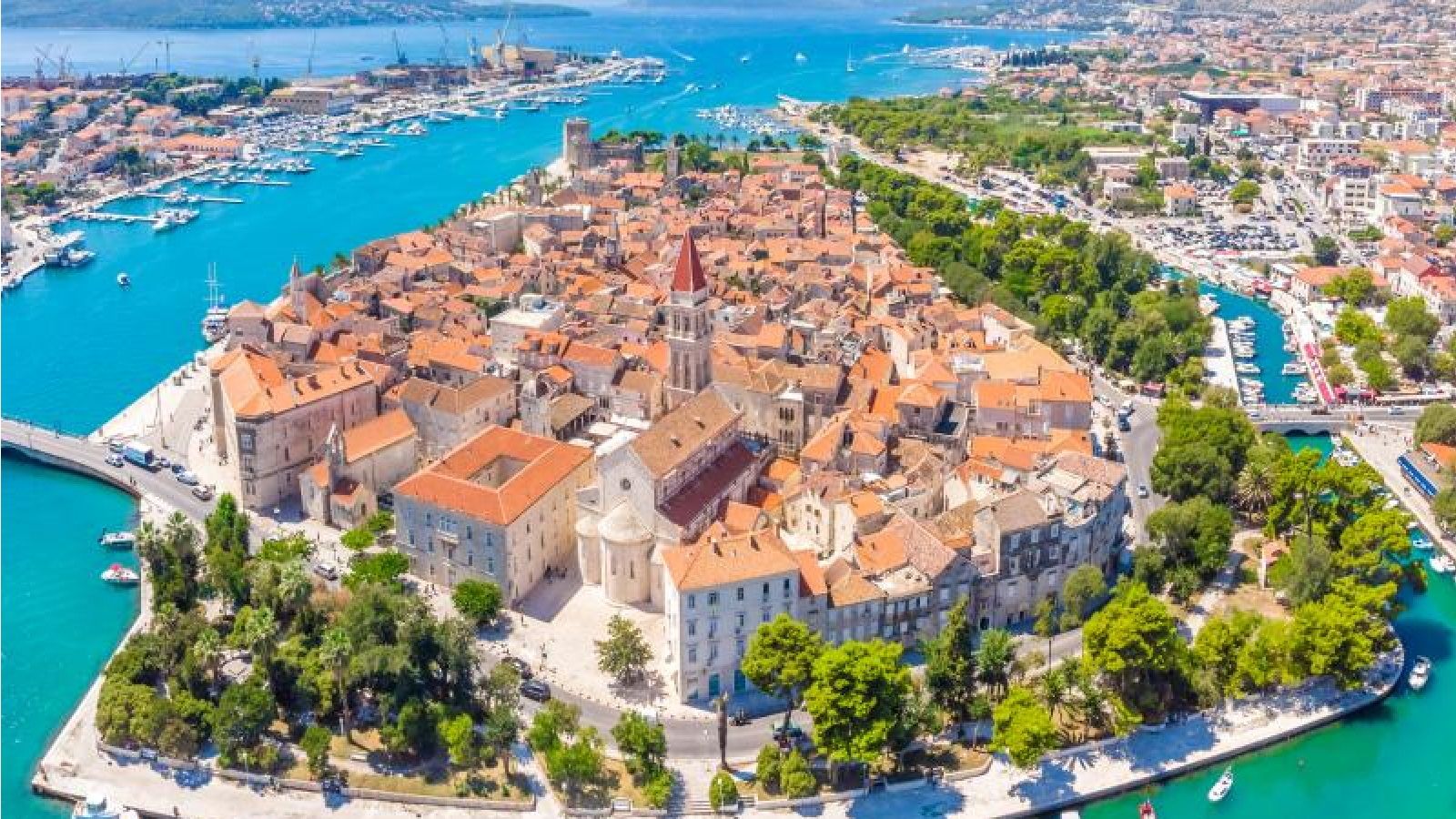 – and there are national parks (including the UNESCO World Heritage site of the Plitvice Lakes even closer!
Srinivasan notes that people "migrate to a startup city — or invest in one — because it can now outcompete long-entrenched incumbents by pursuing the policies they reject, the capital they rebuff, and the talent they refuse."
The techxodus from Silicon Valley represents a great opportunity for Zagreb, and I'm personally excited to see how their new government rises to the challenge!
Author's Notes: If you enjoyed this story, please click one of the buttons below to share it on your favorite social media platform, and subscribe to the site for more great content!
If you'd like to share your thoughts, the comments are open - I'd love to hear what you think!
If you really, really enjoyed this story, you're always welcome to send a little crypto my way: Bitcoin here, LiteCoin here, or Ethereum here!
This story was written based on a 1729.com task, with a potential payout of $100 in BitCoin... If you haven't yet visited this site, there are many opportunities to earn cryptocurrency for doing everything from studying quantum computing to posting a picture of your latest workout. If you haven't checked it out, I would strongly encourage it - this is the ground floor of a new approach to earning and learning, and as an early adopter, I'm very enthusiastic about it and hope more people will make it a part of their daily/weekly/monthly routine.